Medagascar.. what can I say??  Awesome?  Funny?  Heart-felt?? Kids stuff??
Ahhhh… who cares??? It's a movie no one should miss.  I enjoyed the whole movie, and was really impressed by how the plot went.  Trust me, this is a better watch than Quantum of Solace.  Better by 5 times!!!
For the past week, I have been marking.  I could say I am busy marking exam papers… but that would be a huge lie because I would only do my marking when I feel I want to. The other days would be filled with lots of snores, music, movies. TV series… and well, blog hopping.  You guys get the drift.  Nonetheless, I have to make it a point to finish all my marking by this weekend because I need to start moving fast on another project which is directly related to David.  He'll kill me if I didn't finish this.  I can be sure over that!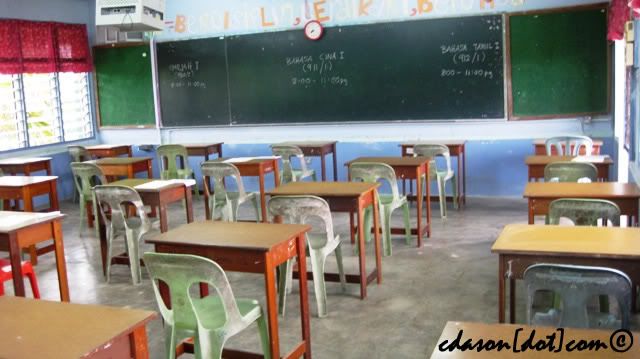 Invigilated STPM for the first time in my life.  3 hours sitting in the exam room, doing nothing but starring at private STPM candidates working hard to get a piece of paper full with good, accurate points is damn boring.  I don't know how many times I yawned, and walked around trying to shake away the boredom.  The end result for me would be RM300 in claims (inclusive of mileage claims).  *shrugs*
Ahhh.. whatever it is, I need the money.  I am planning to travel a lot next year.  I've got nothing better to do than take up Air Asia's and Tiger Air's offer to escape to other cities.  I just hope Emy could join me, or I'll be backpacking alone.  That wouldn't be THAT FUN.  Still prefer to have company when traveling.  After all, who's gonna take my pictures which would be proof that I've been somewhere??  I would like to say "Granpa has been here…here.. and here" to my grandchildren when I grow old (assuming there would be a Mrs Cyril, and a Cyril Jr) *wink*  There I go again, thinking wayyyyyyyy ahead!!!  I'm only 25.. "still very young", as most of those older people I come across say, though sometimes, I feel so damn old.  Maybe my job is killing me… Ahaks!!
So, I took Emy out for Medagascar 2.  Like I said above, it was awesome!  Didn't have any specific plans thereafter, and found ourselves camwhoring at the Kuching Waterfront to the images of the beautiful moon.
Then, the watch turned 8pm, and I asked Emy to recommend a place to eat.  Always have been known to take my dinner at regular hours, and despite not being that hungry… I wanted to grab a bite anyway.  As usual, Emy had no ideas to eat (even if she did, she'll want me to decide)… and so, I drove along Jalan Padungan before finally deciding to go to Havana.  Which was CLOSE!  So, second choice was "the Living room" a.k.a "the Junk" I guess.
The place was okay… but I wouldn't rate it among my favourite.  It was kind of dark, and well… the food was average.  Ordered Vodka Lime which tasted more like lime juice, and well… did some more camwhoring in 'the Living room'.  Tried to avoid using the flash of my Ixy 25IS, but the photos turned out blur.  The photo below was taken using flash.  I guess everyone in 'the living room' was thinking "What are those guys doing??  Sakai ka??" coz my camera kept flashing with pure ignorance of the surrounding, just to get a decent shot.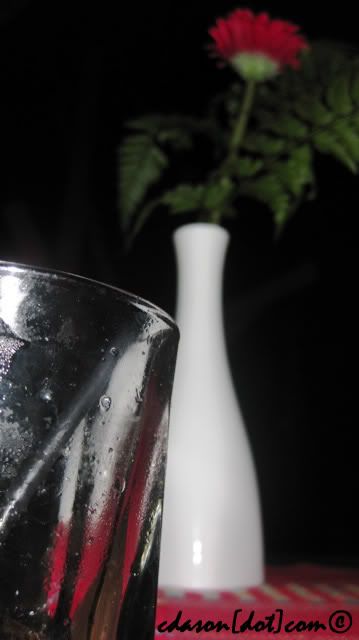 Em… nothing significant to note actually in this post.  I could say that tonight or rather today was a blast, and I enjoyed myself.  Most certainly took my mind over my worries and other stuff… and did I mention how much I hate Man Utd these past few days??  Anyway, I hope to do it again (taking Emy out somewhere like this), but for now… "I like to move it, move it…She likes to move it, move it!!" hell yeah!!
Ooh!!  This is one of those random post with nothing in particular.