Siem Reap, Cambodia is a fantastic place to experience Cambodian cuisine, and there's really a lot of eating places to choose from.  TripAdvisor alone list some 888 restaurants in Siem Reap, and there's really no way you can't try them all, even if you had the chance.
Local Cambodian food aren't many, so it is likely that you'd spend a couple of days trying them out, before switching to the western food, which is found in abundance in Siem Reap.
Anyway, on my recent trip to Siem Reap, Cambodia, these are the restaurants and cafe's I've managed to check out, which are not too far from the hotel Prince D'Angkor Hotel & Spa, which I was staying in.
Old House Restaurant @ Hospital Street, Siem Reap, Cambodia
Staff at Old House Restaurant were friendly and the best thing about this place was the fact it had air-conditioning. Ordered a mixture of western and Cambodian dishes, and was pleased with the Khmer Curry. The food overall, was not bad, and the price was also welcoming despite the cooler atmosphere. – Photo shows the interior of Old House Cafe 
Lucky Burger @ Lucky Mall, Siem Reap, Cambodia
For a place with the name 'Lucky Burger', one would expect they have the best burger in town. Unfortunately for Lucky Burger, this is not the case. The burgers were ordinary and the patty was hard, and it tasted something like KFC, hence making it ordinary. – Photo shows Lucky burger's french fries packet.
Lilypop Restaurant @ Taphul Road, Siem Reap, Cambodia
A lovely family operated restaurant that has very friendly service with good prices. Lilypop Restaurant served amazing fresh spring rolls and their hospitality is admirable. Service was fast as well. – Photo shows Lilypop Restaurant from the inside.
Cambodian Traditional Chef Restaurant @ Sok San Road, Siem Reap, Cambodia
The Khmer Curry at the Cambodian Traditional Chef Restaurant was not bad, but the highlight of this place was how they actually separated the rice from the accompanying meals. The fried spring rolls is worth a try. – Photo shows the restaurant from the outside.
My Little Cafe @ Preah Sangreach Tep Vong St, Siem Reap, Cambodia
The dusty road where this eatery is located is very unwelcoming to be honest, but the menu of My Little Cafe is huge and the dishes were incredibly delicious. The place seems popular among 'Ang Mohs' with hardly any locals eating there while I was having lunch. The mango shake was one of the best I've had while in Siem Reap. – Photo shows the interior of My Little Cafe
Genevieve's Restaurant @ Sok San Road, Siem Reap, Cambodia
A real gem in Siem Reap because it boast of one of the best service and food to make you fall in love with the place.  Located just outside of Pub Street, Genevieve's restaurant was found by us on TripAdvisor, and it was one of the highlights of our meals in Siem Reap. To top it off, their prices weren't high and were largely affordable. – Photo shows the gang in front of Genevieve's Restaurant.
The Pizza Company @ Angkor Wat Trade Centre, Siem Reap, Cambodia
The Pizza Company is similar to Pizza Hut, a popular 'mainstream' pizza place in Malaysia. The place is a Siem Reap local magnet and the pizzas are average. I personally loved the bread sticks, but I'd prefer not to return if given the choice, simply because it's ordinary. – Photo shows the pizza served at The Pizza Company
ABOUT SIEM REAP, CAMBODIA
Tourist flock Siem Reap, Cambodia for the ancient Angkor Wat, which is a huge complex featuring amazingly well-preserved ancient temples. While temple tours take most of the day away, the night life of Siem Reap is nothing short of impressive as well, especially since Pub Street is a lovely place to enjoy a chilled beer for a mere US 50 cents, while mingling with other tourist and locals.  Western food is easily found in Siem Reap, Cambodia along side Indian and Thai food. Of course the Thai food can't compare to the ones we had when visiting Krabi.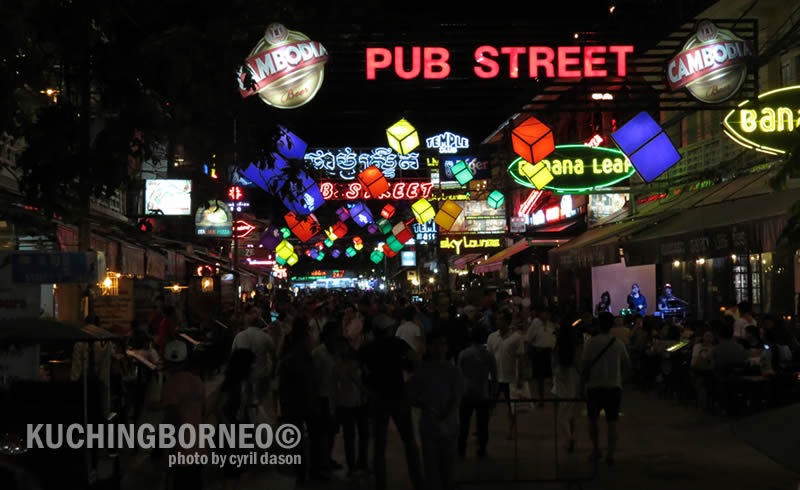 When it comes to currency, USD is widely used, and you should not bother to change to their local currency.  Most Khmers (Cambodians) speak little English, but those at Pub Street seem to be doing alright.  Even the tuk tuks charge in USD.
Hotel rates in Siem Reap are generally higher if compared to other places I've been, but there Is offers every now and then from hotel booking sites like Booking.com. It is worth to note that Siem Reap does have the most hotels (or accommodation services) in Cambodia.
Roads in Siem Reap, Cambodia are dusty, and the wind can be very strong at times (making dust and sand just come gushing to you), making this seemingly under-developed city seem like nothing more than a cowboy town at times. However, behind that facade lies a true gem to discover, in which I believe that even if you minus the Angkor Wat, it would be a worthy place to check out.