I got my first car this year… and despite not really having the best of experience with the car, I have to say I am satisfied with it.
It gets me to where I want to go, and in fact has little fuss on the road.  Again I stress that I remain unsure on how much is the fuel consumption as I never bothered to calculate it.  Indeed, I have to say the SAGA BLM is a worthy buy.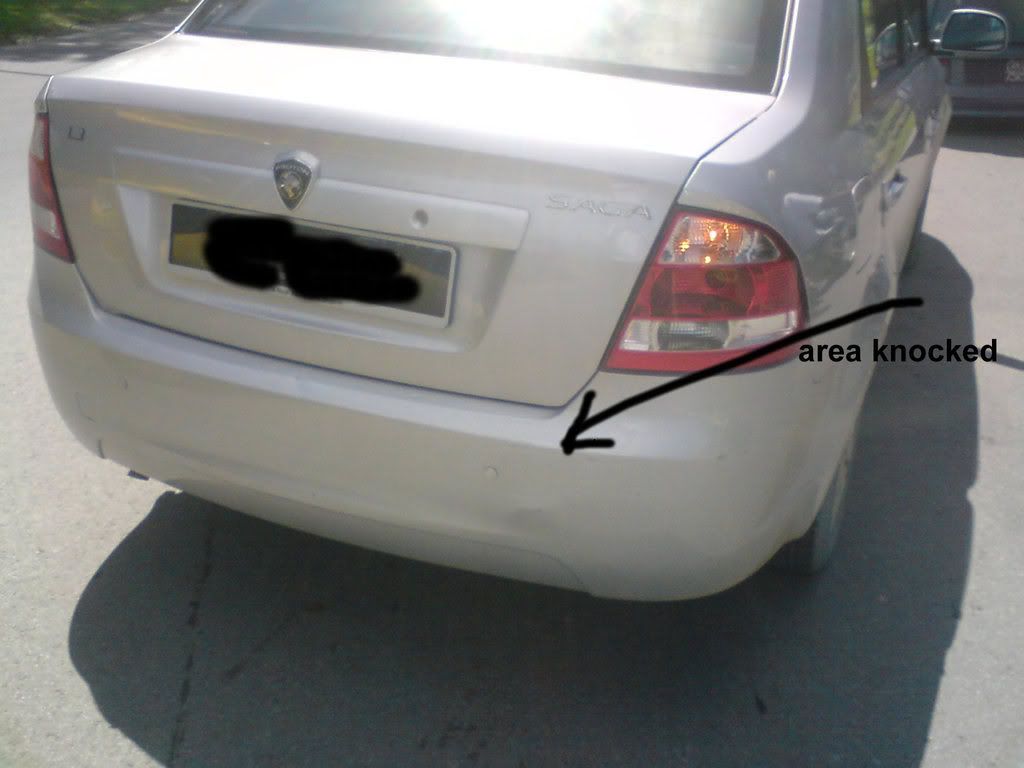 Something new which I'd like to add to its advantages is the fact that its HARD.  Yeah.. really hard as in solid.  This is a fact as at 2pm, last Sunday (20.07.2008), a white Toyota Estima kissed the ass of my brand new Proton SAGA BLM… and the result?? Almost no real mark on my bumper, but a huge visible damage on front of the Toyota Estima.
Its kind of unfortunate I didn't manage to capture the photo of the Toyota Estima which banged the back of my car, but then again I have to admit, I am impressed on how strong my car could withstand such an accident.
The real damage could only be seen shall you decide to open the bonnet of the car, hence revealing the inward movement of the car structure.  Even then, it is hidden from the eye, and shall only be noticeable if you do a through check on the car structure (as I did).
Since the accident was not my fault, Mr X was willing enough to pay for all the damages, including a new original bumper for my car.  I am actually impressed on how humble and apologetic he was throughout the whole ordeal, where as I know some people would prefer to play the 'blame game' once involved in an accident.
He even said that we should not only keep in touch because of the accident, but for other things in the future, which is really something you wouldn't expect from anyone.  And if you are wondering on his sincerity, well, he made a down payment of RM400 for the repairs to the mechanic I suggested, and I was made to understand that the repairs would only cost about RM600.  Pretty cheap, huh??
At the end of the day, I made a new friend, and my only regret now is that my car, is no more accident free.
And while I'm at it…. what should you do when you get into an accident?  I've got involved in two accidents (one when I was riding a my motorcycle, and this new one).  So, Here's my tips:
1….Take PHOTOS of both cars/scene before moving the vehicles (I forgot to take the photo of the Estima)
2…DISCUSS NICELY with the person involved about payment/repairs.  (If you are hit from behind, the guy that bagged you car is definitely wrong!!, and so are you if you bang others from behind!!!)
3….Shall 'the blame game' start and you feel YOU ARE NOT wrong, suggest police interference (this normally puts off the person whom is at fault as they would need to pay more shall you make a report).
4….If YOU ARE WRONG…. then, admit you are wrong, and ask the person where he/she would like to repair his/her vehicle.  Be sure to be present when the estimation of the repairs would be done.  You wouldn't want to be overcharged.  It would be good to suggest your own mechanic.
5….Remember to TAKE A PHOTO OF THE OWNER OF THE CAR, HIS/HER IC NO, AND TAKE DOWN DETAILS OF THE ACCIDENT.  (You might want to take more shots if he/she's hot…hehehe) Also remember to obtain his/her contact details so that you could be in touch with them, and charge them shall they make empty promises. (If he/she's hot, you might need their contact details to bring them out…kekeke)
6….Always request for ORIGINAL replacements.  Be firm on that.
7….Last but not least, BE NICE... even if its their fault, and even if you 'sayang' your car so damn much…. coz you never know whom they are or what they could be to you.  Who knows, they might be your future in-laws.. or even better… your future husband/wife.
Like they say.. it only takes a spark.. to keep the fire burning.. heheh
Ehhh.. Am I still talking about accidents?? wuahahahaa….