************************
Short Words:
Its the last day of school and Hari Raya will be coming soon.  Student's come up and say, "
Selamat Hari Raya Cikgu, datang rumah, k??
" which really makes me think, are they sincere in saying this, because they didn't bother giving out their home addresses… Talk about "
ajak-ajak ayam
"
3:01pm, 25.10.2008
***************************
Yesterday proved to be a very different day.  So much happened.  One of the classes I am teaching is having some sort of war that 3 of the students cried in class.  I had to give my so called ceramah "Mativasi" with the hope things would improve.  But the best part of it all was that I did not get any sleep since 3am that same day.
Drowsy, I went to the back to cash out my Adsense earnings at the CIMB brach at Rubber Road(not the pic above).  RM399.70.  Not bad for two months… but it always came back to me what would happen if I was to get involved in a fatal accident due to my drowsy head, and my lack of attentiveness on the road. Arrrgghhhhh… Such thoughts made me regret of even going out, but thinking back, it would be Raya soon, and the streets and banks would be full, so I had to do it.
I walked into the branch, and was greeted by Miss V, my personal financial officer (or sort of.. because most of my loans are handled by her, and she gives me financial advice from time to time).  She commented I look a lot thinner than my last visit which was a few months back, and proceeded to help me get my number for the Adsense cash out, and invited me to her booth for a quick chat while I was waiting for my turn.  There, she asked about my well beings and we discussed about finances.  We talked, and she commented on how bad her sales is during these few weeks.  Yeah, the economy is not grim, and I know most of us feel the pinch.  I listened, with a few nods and comments here and there as I was waiting for my turn to go up to the counter.  My head was actually spinning at that time, and my stomach was drumming the 'hungry song'.  Nonetheless, I had no appetite to eat, and bothered not about all those feelings.  My phone was also so silent despite my numerous checks every few minutes *SIGH*.
One thing Miss V said was that she has two good customers, and she said I was one of the two, with the other one being an engineer.  She said, both of us do not simply take things for granted, and without deep thoughts about it first, which is good considering how many other customers she has which just jwshow they know so much, and think they know it all and sign up abruptly on what is promoted to them.  She continued to say that I have a good financial planning for the future, which is really hard to find in most people.  *NOSE GETTING BIGGER, CHEEKS GETTING RED* I do not know whether she is just trying to woo me to get me to apply for more loans from her… but I believe she was sincere.  After all, she has been honest about the benefits and the bad side of everything she has promoted to me, and I have rejected a few of her banking promotion offers in the past.
Anyway, I told her… when I finish all my loan payments in 4 years, I would like to acquire a house.. and this prompted me to ask her how much loan I can get.  She did some calculation, and said that for RM300k, I'd need to fork out a monthly payment of RM1.5k for 35 years, while for a RM200k loan, I'd need to pay RM1k mothly for the same number of years.  Wow!!  That's a lot for a monthly payment!!!  Wonder if I could get such amount within these few years.  *SCRATCH HEAD*
Well, to be frank, I do not really know if I am good at financial planning, but it is definitely a line I am interested in since I like business very much.  I mean, the ruthlessness, the profit in line, the satisfaction of achieving something,  and risk are like adrenaline pumping into my blood stream. Nonetheless, Eda asked me about DiGi Postpaid and its advantages the other day… and I have to show these two photos.
The photo below shows how much I have spent on my DiGi account for the month of September 2008.  I checked the unbilled balance on Sept 21st, 2008.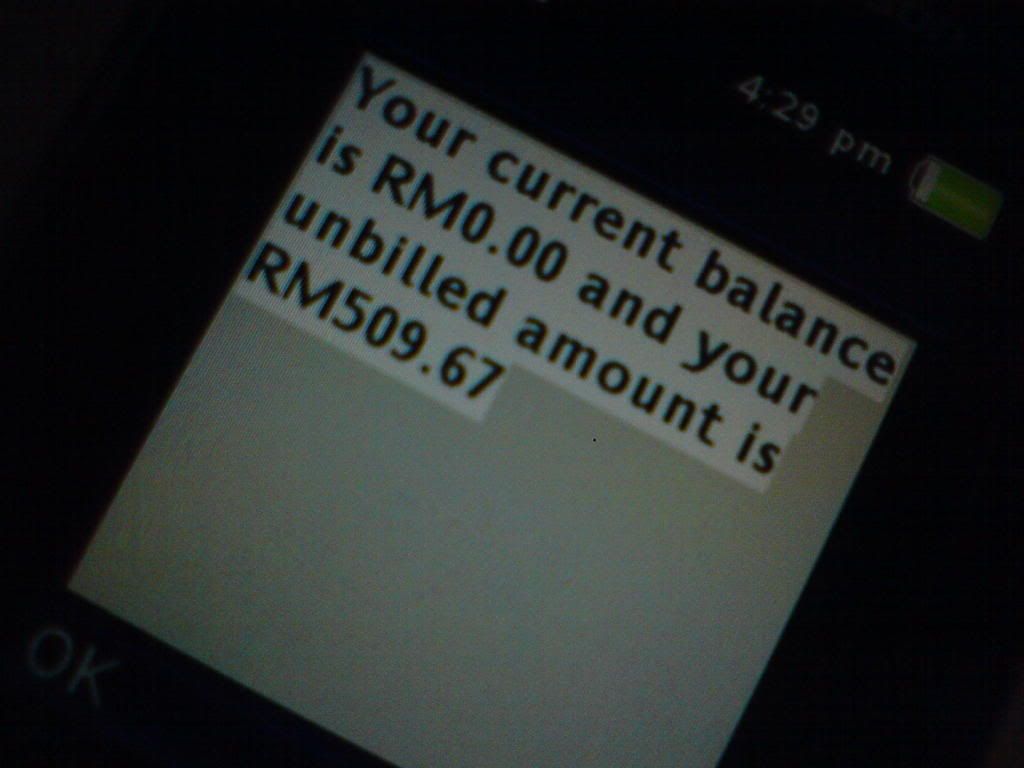 And the photo you will see below is the billed amount(which means the amount I have to pay for September) which I checked on Sept 23rd.  See the difference?? RM509.67 to RM148.34… hehehe…..  and that includes voice calls, surfing the net, and SMS/MMS etc.*SMILE*
So, if you wonder why I am a DiGi customer, and why I don't plan to change to others at the moment?? Well, reason number one is because of the above photos, and reason number two is stated here.  Unfortunately, the 1Plan which I am using is not available anymore… but I think sigining up for the 1Plan introduced by DiGi has been the best choice I've made in the sence of mobile communication.
Like I've heard somewhere… It pays to be a DiGi customer… and they do REALLY mean it!