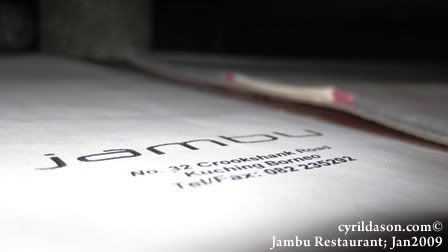 One weird name; JAMBU.  That's where I was on the eve of Chinese New Year.  Planned this like 48 hours before the actual date.  I have always passed this restaurant, but I've never had the company to enjoy it.  It looks sort of like Magenta, but well… nothing much has been said about it's quality and food.
Anyway, Jambu is located just a stone throw away from the Sarawak Club (if you don't know where that is, ask someone who knows.. hehehe).  It has 'fine dining' written all over it, and I have to admit.. it is pricey.  Nonetheless, to enjoy such atmosphere of dining once a while is always okay in my books.  After all, it's a really nice place to chat and hang out.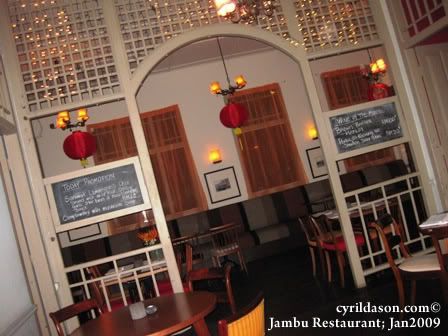 I picked Amiey up from work, and I brought her straight to the restaurant.  She was a little tired, and her mood was kind of bad because her working hours were extended a little more than expected.  But yeah, she survived it, and looked pretty chirpy when we arrived at Jambu.
I've been to 3 other fine dining restaurants in Kuching.  Tom's at Jalan Padungan, The Living Room near STAR Cineplex, and  Magenta at Jalan Nenas, and so far… most are okay.  Jambu and Magenta both have their own yard, while The Living Room and Tom's are located in shophouses.  Despite that, I enjoy the hospitality in The Living Room and Tom's more than Jambu and Magenta.  I'm saying this because when I enter both restaurants, I'm promptly greeted, and I am showed to my seat immediately; which is something you'd expect when you are paying 10% service charge, plus extra bucks on food you could get a hell lot cheaper in an ordinary cafe.  In Jambu and Magenta, I was lost scouting for seats, and was only attended by a waiter after a few minutes looking like displaced a person in a crowd of seated customers.  Maybe it's not a norm because I have to admit I went there during the eve of a public holidays, but still.. I think the management should cover this before hand (yah.. a complaint!!!).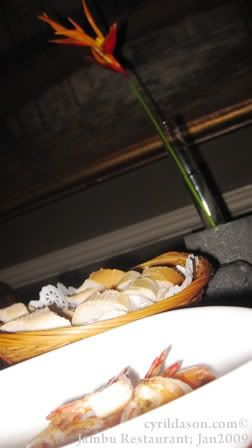 So, Jambu is nicely decorated… and it wasn't full when we walked in.  Was pointed to a table by a shabby waiter, and he then produced the menu.  Being at an exclusive place like this, price wasn't really an issue because you'd expect to pay more.  No complaints.  I decided to go for my favourite Sirloin steak, while Amiey went for her usual Fish and chips.  Our appetizer was some bread and prawn called Gambas something, and I went for the Mexican Martini for my drink.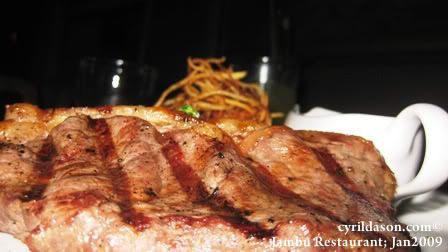 The verdict on the food?  7/10.  Not the best Sirloin steak, but it was filling, and the Mexican Martini was delightful as both of us chatted through the night to 11 something.  Amiey's Fish and chips was delicious tough… and I thought it would easily get a 8/10 from anyone.
The night ended with Chinese New Year fireworks by whoever was ready to break the law on playing firecrackers.  We listened, and saw a few 'bombs' exploding midair.  Too bad, I didn't get any shots of it.  At 12:15am, Kuching was in smoke.  And I guess, this was the best ever Chinese New Year's eve I've spent with someone.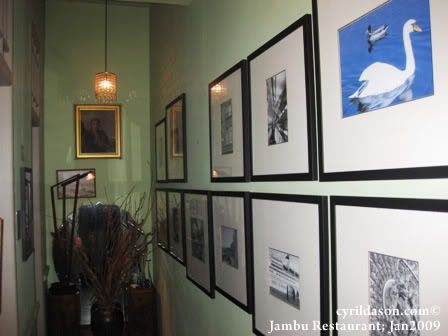 p/s: If you guys are planning to go to Jambu, DO NOT USE THE ENTRANCE FROM CROOKSHANKS ROAD.  You'll regret it , big time.  Jambu has two enterence, and the one from Jalan Crookshanks is very much elevated, and dangerous.