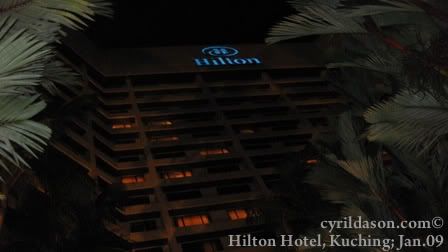 By the time you read this, I'm at Hilton, having my Valentine's dinner with Amiey.
Why Hilton? Well, they aren't as expensive as I figured they are.  In fact, after running down the price list… they are very much cheaper than Jambu.  They also have a long list of cocktail selections, and food variety… so why not?
I have it all planned out.  I hate going to crowded restaurants or places, hence my displeasure over Magenta, and the selection of 13 February to have my Valentine's dinner.
For me, a Valentine's day dinner should be private, casual, and cozy… A candle light dinner is not as important as the atmosphere.  I could have the dinner at my place, which would have total privacy, but I'll have to wash up, cook and serve, which will lead to me getting really tired… and hence ruining the moment.  So, dining outside was a definite 'yes'.  Plus, my house is a total mess…
So, you guys are wondering what I'm getting her?  Uhh…  I had a brain drain on this honestly.  I don't know what to get her.  I'm very picky at gifts.  I always prefer giving cash as a present… but who gives cash to their dates on Val's day?? That's not weird, but its UBER WEIRD!!  I prefer giving a gift which would be useful, and would also have a personal touch to it… It actually took me quite sometime to decide on the gift.  It was the hardest part!!
Finally, I decided a simple note which I made myself would do…
I know… It's lame…
But yeah… It has a personal touch to it… and I hope she likes it.
Happy Valentine's day everyone…